#5. Let go of the gay marriage debate.
I know this won't be a popular thing to say among Christian pro-lifers, but I really believe that this is one of the biggest things holding back the pro-life message from youth today. I can't tell you how many times I have heard a pro-choicer conflate the two debates, and I believe that is largely our fault. And it is tragic. One issue involves the killing of unique human beings, the other involves two consenting adults having sex.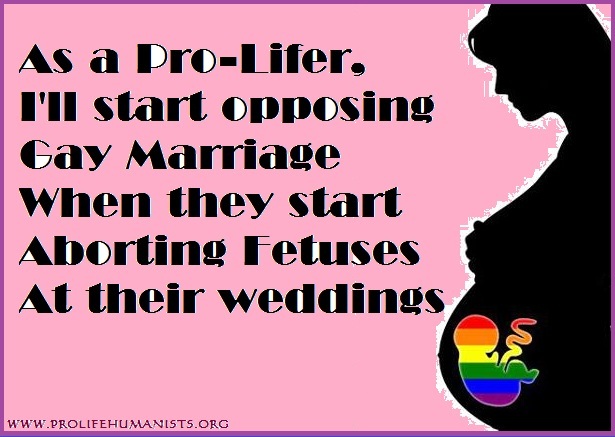 When you go to many of the big name websites in the pro-life movement, you will find them divided between advancing the sanctity of life, and pushing extreme anti-gay stories. How many people have been turned off of our message because our movement (as a whole) has focused on issues that have little bearing on the abortion debate?
If you are against gay marriage and are pro-life - fine. But
please
keep these two sides of your advocacy separate. And if I have to explain to you why abortion is a much more serious issue than gay marriage, learn a bit more about what you are advocating against. Gay rights do not even come close to approaching the scale of harm that abortion rights inflicts on our society (and of course, the question of gay rights causing harm at all is debatable) - especially when we consider the young lives that are ended through abortion.
#4. Focus on real arguments.
I cannot even count the number of times I have read a pro-life comment or blog post that does not address at all what the author had hoped to address. Instead, all I read are intensely emotional appeals to the evilness of abortion, the presence of the devil, and the judgement of God. While these things may be true, no one will be convinced by such appeals. What will convince people, however, is sticking to the salient points of the debate. What are pre-born humans? Do they have a right to life? Do mothers really have unequivocal control over their pre-born children, even to the point of causing harm and death?
See
this
blog entry from Pro-Life Humanists for a non-Christian perspective. I think they have a point. Are we in this movement to save babies, or are we in this movement to convince people to believe in God?
#3. Understand science and statistics.
One other issue with the pro-life movement is that as soon as we find a study that hints at support for the pro-life side of the debate, we run with it. Pro-life blogs and spokespeople reference the study to the point of absurdity, and make statements which assume that there is no room to doubt the study's conclusions.
That is not how science works. And that is definitely not how statistics work. Read the studies you quote, read studies which draw conflicting results, and read the scientific commentary on these issues. And never, ever state anything for certain.
In any case, our thesis does not rest on whether or not abortions cause breast cancer, increase suicidal thoughts, or that most women choose abortion for economical reasons. Putting too much weight on these conclusions, especially when they may be incorrect, weakens our message. Abortion is always wrong. Period. Even if it were healthier for women to abort than give birth. Even if most women reported increased levels of happiness after abortions. Even if women choose to have abortions for other reasons besides the monetary cost of raising a child. Abortion
always
kills someone (both scientifically and philosophically) - and that is why it is wrong.
#2. Increase your reach.
Become better at reaching people. Spread the message. This is easier said than done, especially since the MSM prefers to ignore our message rather than report dispassionately on the issue of abortion. But even so, there is definitely room for improvement for every pro-life organization.
For instance, I will give an example relevant to my life as a student. If I didn't actively seek out the date of Canada's 2013 March For Life, I wouldn't know it was happening on May 9th. The university pro-life groups I am a part of haven't even bothered posting a link to the event page on their own Facebook pages. The church I attend included March for Life in their April bulletins, but didn't bother saying anything about the pro-life message or the March during the beginning of May. Pro-life friends who are actively involved in the movement haven't been searching for others to come with them to the March - in fact, I had to reach out to my campus pro-life group in order to get any information at all.
All of these pages are from prominent Ontario Universities - ones that are nice and close to Ottawa. Yet, no information whatsoever on the March. How many people are we losing because we haven't been connecting with them? If I wasn't absolutely determined to attend the March this year, I can say that I would have definitely given up.
#1. Engage the culture.
Many pro-life leaders, in Canada and in the States, are young. Which is great. But many of them are also very devout religious people and it is hard for the average person to relate to them. We need to promote organizations and advocates who come from a different background and who advocate for a different, more secular kind of approach. I would love for a Secular Pro-Life chapter to begin in Canada. I think something like this could make great strides in the academic / university world towards converting students and professors to the pro-life cause.
How many pro-life songs (not written by Christian artists) do you know? How many pro-life pieces of art have you seen? How many pro-life movies are out there? Are they popular, or do they only succeed in the Christian niche market?
Spreading the message does nothing if it only reaches the Christian pro-life echo chamber. This is the most important point, in my opinion, because if the average person never comes across a thoughtful, well reasoned depiction of the pro-life cause, they will remain pro-choice simply because it is the status quo.